Super Mario Maker (WiiU Loadiine)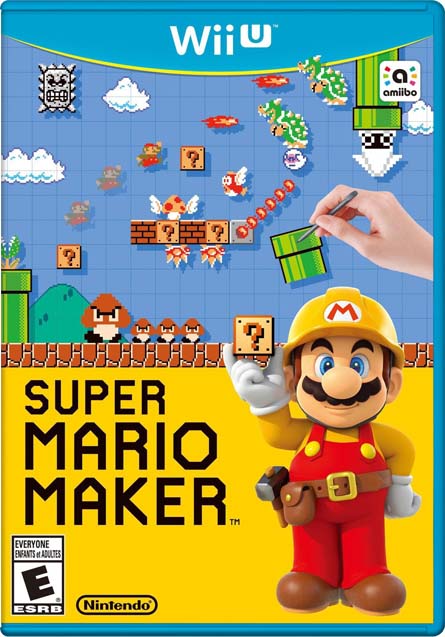 Super Mario Maker lets people's imaginations run wild. For the first time ever, friends can have fun playing through levels they create for one another. The Wii U GamePad controller makes it so easy for anyone to create levels; it may feel like simply sketching out ideas on paper. Players can enjoy a seemingly endless supply of inventive Mario levels from players around the world.The game includes a book totaling about 100 pages that illustrates the boundless possibilities in Super Mario Maker. Nintendo will also release two special Mario amiibo figures to celebrate the 30th anniversary of the original Super Mario Bros. game. Tapping these amiibo in Super Mario Maker adds a Big Mushroom power-up to your course, allowing Mario to grow big and bust blocks from any direction, as well as adding a retro visual filter to the game, reminiscent of older cathode ray tube televisions. In addition, many other amiibo will also be compatible with Super Mario Maker through the use of a new item called the Mystery Mushroom. This item allows Mario to take the appearance of many other characters, such as Link, Kirby or Wii Fit Trainer, complete with character-specific animations and sound effects. These character costumes can be unlocked by completing the 100 Mario Challenge mode and many can also be unlocked if the player taps the amiibo of the character to the Wii U GamePad.
Release Date : September 11, 2015
Genre : Editor Platformer
Publisher : Nintendo
Developer : Nintendo
Region : USA
IGN Rating : 9.6 (Amazing)
Platform(s) : WiiU
Mode(s) : Single-player/Multiplayer
File Type : Loadiine GX2
Game Size : 1.1 GB
Rar Size : 868 MB
Rar Password : madloader.com
Place the Game Folder on your SD card (
wiiu\games
) and
Play
using the
Loadiine GX2

You can also play this WiiU Game in your PC. Download [Cemu WiiU Emulator]
Download

Super Mario Maker

Super Mario Maker

Super Mario Maker
N.B: Please Comment us below or in Request if any File link is broken or missing.We Will Try To fixd & Reupload Download Link ASAP.