N.O.V.A. 3 Freedom Edition v1.0.1d (Mega Mod)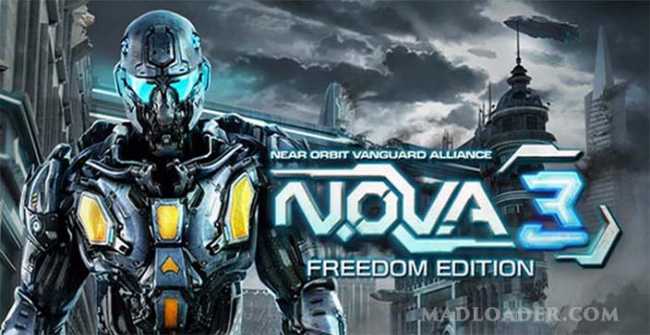 The most immersive and impressive sci-fi FPS franchise on smartphones is now completely free! Fight for humankind's survival!
N.O.V.A. 3: Freedom Edition
What's New
About Game:
Four months after Kal Wardin defeated the Volterites, President Folsom is assassinated and the beleaguered colonies surrender to the Volterite Protectorate.
Since then, Kal has been lying low, but a desperate plea from Yelena calls him back to save Earth and humankind…
• An epic storyline: Humanity finally returns to Earth after years of exile! Fight in 10 immersive levels across the galaxy, from a war-torn Earth to a frozen Volterite city.
• Multiple weapons and powers: Run, shoot, drive vehicles, and pilot a mech to defeat hordes of enemies.
• Join 12-player battles in 7 multiplayer modes (Capture the Point, Free-for-All, Capture the Flag, etc.) on 7 different maps.
• For the first time, multiple allies can jump inside the same vehicle and spread destruction on the battlefield.
Mega Mod List:
1. Max ammo capacity
2. No spread
3. No recoil
4. Damage multiplier
5. Always headshot
6. Rapid fire for all weapons
7. Semi-auto for all weapons
8. Infinite coins
9. Infinite blue credits
10. Buy items without having enough money
11. No range limit
12. Infinite health
13. ESP (wall hack)
14. Semi-aimbot
15. Unlimited sprinting
16. Enable debug menu;
17. Colorgrading controller
18. Time factor controller
19. Interface controller
20. Cinematic debug info
21. Navmesh debug info
22. Collision debug info
23. Trigger debug info
24. AI debug info
25. Active NPCs controller
26. Capsules controller
27. Collision response controller
28. Shadows controller
29. Reverberation controller
30. Debug sound controller
31. Enable cheats menu;
32. God mode
33. Observer mode
34. Print debug info
35. Infinite ammo
36. Unlock all weapons
37. Unlock all powers
38. Skip to next checkpoint
39. Skip to next section
40. Skip to next level
41. Add credits
42. Remove DRM
43. Full offline
Credits : Riu





Required Android Version: 4.0 or Later

Install Instructions: (Non Root & Offline)
Download Both Apk & Obb File
Extract Rar Files Then
Install Apk
Copy 'com.gameloft.android.ANMP.GloftNAHM' Folder to "sdcard/Android/obb/here"
Launch the Game
Enjoy