Gears of War – Pc Game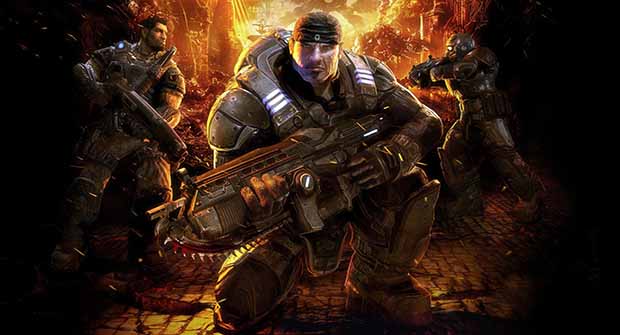 The Gears of War game focuses on the troops of Delta Squad as they wield a desperate, last-ditch attempt to save the remaining human inhabitants of the fictional planet Sera from a relentless and seemingly unstoppable subterranean enemy known as the Locust Horde. The player assumes the role of Marcus Fenix (but can also play as Dominic Santiago), a former prisoner and war-hardened soldier. The game is based on the use of cover and strategic fire for the player to advance through the scenarios; a second player can play cooperatively through the main campaign to assist. The game also features several online multiplayer game modes for up to eight players.
Gameplay:
Gears of War is a third-person shooter that places emphasis on using cover to avoid taking damage while moving towards enemy forces. The game uses a number of weapon archetypes, but predominately featured is the Lancer, an assault rifle that has a mounted chainsaw bayonet that can deal melee damage at close range. Playable characters can carry two primary weapons, grenades, and a smaller, secondary weapon such as the Snub Pistol. Weapons are reloaded with a tap of the RB button, and a second tap within a given time (active reload) rewards the player with a damage bonus. However, failing to perform the "Active Reload" correctly will cause the gun to become momentarily jammed while the player's character fixes it. When the player takes damage, the "Crimson Omen", a red cog representing the player's health gauge, will fade into the screen, becoming more defined with larger amounts of damage. The player can seek cover to recover their health, but if they take too much damage, they will become incapacitated. Once this occurs, a skull will fill the center void of the omen. The player can then be revived by a teammate, executed by an enemy, or remain incapacitated until they "bleed out", dying from blood loss.
General Info:
Year of release : 2007
Genre : Action-Adventure (Third Person Shooter)
Developer : Epic Games
Publisher : Microsoft Game Studios
Language : English + Multi8
System Requirements
Minimum:
OS: Windows XP, Vista, 7, 8, 8.1
Processor: Intel 2.4 GHz+ / AMD 2.0 GHz+
Memory: 1 GB RAM
Graphics: NVIDIA Geforce 6600+ / ATI x700+
DirectX: Version 9.0c
Hard Drive: 12 GB available space
How To Install:
Extract Rar Files
Open Read Me File, Follow The Instructions,
Install The Game, Update, Crack Then Play