Fibble Flick N Roll v1.0 Apk (PowerVr Only)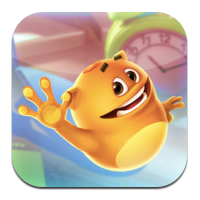 Fibble Flick N Roll
Crytek's first mobile game stars the cute but curiously brave extraterrestrial explorer 'Fibble', who crash lands in a suburban home on the wonderfully blue planet, Earth. In the dramatic crash, Fibble becomes separated from his crew as they're scattered all over the mysterious house. In order for the gang to return safely to their home planet, the player needs to help Fibble regroup with his mates, by searching every corner room by room.
This endeavor is not as easy as it sounds though, and throughout the adventure, Fibble will need all the help he can get from a crowd of very helpful Mini creatures that each possess a particular skill set.
Features
Intuitive fun everyone can tap into!
Use instinctive touch screen controls
to flick, roll and control Fibble. You'll get to grips with his world right away!
Action Puzzler! A puzzle game using brains, timing, and reflexes.
Objectives and scoreboards encouraging competition between players worldwide.
Achievements for the completionists out there. Do you have the skill to collect all the achievements?
You Can Also Play This Game On Pc By BlueStacks



Requires Android: 3.2 and up
Instructions : (Non-Root/Offline)
Only For PowerVr Devices
      Extract Rar File
Installl Amazon Appstore First
Then Install Fibble Flick N Roll v1.0 Apk And Play

Full Speed – Resume Supported
Rar File Password: madloader.com (if needed)